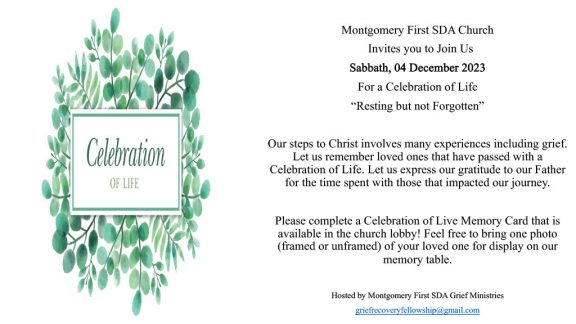 Dearest Friends,
The journey of grief is sacred and unique to each person. However, it is not a journey that must be taken without prayerful support. The Montgomery First SDA church family offers support during difficult times of losing a loved one through prayer, fellowship, and seminars with the intent on helping to manage grief. Registration for GriefShare is now open. We invite you to join us or share this opportunity with someone to meet on Sunday mornings surrounded by support as our group navigates the journey of grief. The support shared through this forum allows for both dial in and log in options to Zoom meetings that are semi-structured, faith based, and educational.
Psalm 143:3 (NIV), "He heals the brokenhearted and binds up their wounds."
Please see the dates and times below.
Registration can be completed at  https://www.griefshare.org/groups/163414.
2023 GriefShare Virtual Meetings: Fall Session: 17 Sep - 10 Dec 2023 (0800-0930 CST)
If you would like more information, please contact us at griefrecoveryfellowship@gmail.com.
Zoom Meeting  Information:
Go to www.zoom.us. Select 'join a meeting' and enter Zoom Meeting ID: 869 5705 2586 + No Passcode
Blessings,
Sis Cynthia Bush,
Grief Ministries
Receive daily encouragement. Subscribe to "A Season of Grief," free daily email messages designed to encourage you. You'll receive 365 uplifting messages that will help guide you through the healing process. Also, we invite you to submit prayer requests. We would like to pray for you. Please send your prayer requests to griefrecoveryfellowship@gmail.com.
Blessings,
Cynthia Bush, Grief Ministry Leader Montgomery First SDA
Grief Recovery Fellowship Ministry griefrecoveryfellowship@gmail.com